What do you mean I can't store that?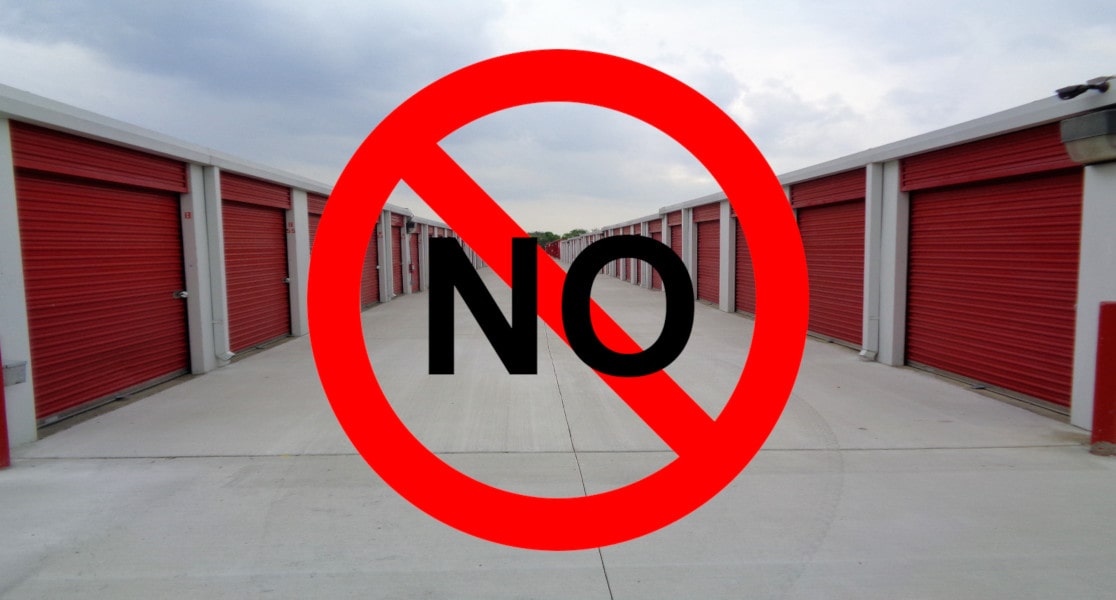 Self-Storage is a great solution for people in various stages of transition. Regardless, if they are up-sizing, downsizing, moving, or making room for grandma. Having a little more space can make your efforts a success. But to maintain that success, one should adhere to a few practical and common-sense rules. Every Self-Storage facility has rules to help ensure the safety for everyone. One of the basic rules is one that is often overlooked but is one of the most essential. That rule is what not to store in your storage unit. Below we've shared the top 6 items that you should never store.
Yourself - Yes, that may seem silly, but renting a storage unit is like leasing an apartment. But that doesn't mean you can live in or hang out in your unit. Using it like a man cave to get away from the wife for a while is not acceptable. The same applies with leaving animals, plants, or other living things in your storage.
Valuables - Some people don't apply logic when looking at the storage of their belongings. Regardless of the perceived security, expensive items are better kept elsewhere. Self-Storage is not the place for items of a great dollar or personal value. Most facilities have limits on the amount of value in your storage unit. Check with your facility to see what they require.
Stolen Items - If it isn't your property then you really shouldn't store it. This includes items that you don't have explicit permission to store. Any suspicions about what you are storing could result in an investigation by the police, or worse place you in jeopardy of committing a crime. Possession is nine tenths of the law they say, but in storage its 100 percent. Why take a chance?
Hazardous Material - If an item could cause potential damage or harm in any way, it's forbidden. It only takes one incident to cause a serious health concern or extreme damage to property. Sorry, Bubba, you can't store dynamite in your unit for your weekend fishing trips.
Wet or Odorous Items - Imagine the storage unit was recently rented. The family are storing their entire house preparing for a big move. The only issue is the freezer wasn't defrosted first. The melted ice will tend to roll downhill and cause damage to items in other units. Not to mention the odor. Odorous items or things with a heavy scent will attract unwanted guests, a.k.a. pests. The last thing you want to do is attract pests. And a bag of yard clippings stored in your unit isn't okay either.
Food - Most people don't give it much of a thought, but this one should be a top item on their list of items to never store. This includes pet food. Food can rot, which is bad. But food always carries a scent which attracts pests. This is also very bad. An infestation of pests can cause carnage on your personal property in a short amount of time. Good procedures of prevention and pest management can keep things well under control, but that will do little good when someone stores an entire kitchen worth of food. It's like opening a 24-hour buffet for all those creepy crawlies.
In the grand scheme of things, you are an active participant in the self-storage process. By knowing what not to store, you help protect not only your property but all of your fellow tenant's property as well. Adhering to these simple guidelines will ensure a successful experience for tenants and facilities alike.